Read the article in the Examiner.com about about last year's New Year Gala
Read the article in SF Bay Style
Click Here to see photos from our New Years Gala
NEWS FLASH !
Once again, we are so fortunate!  We will be able to provide  FREE PARKING  for you at  the Scottish Rite Center Parking Lot just half a block up Madison
 past the corner of the Lake Merritt Hotel on the left side of the street!

NEWS FLASH !  
and we will  feature the immensely talented Jonathan Poretz as well as Connie Champagne  to sing with the Mood Swing Orchestra!
OUR NEXT EVENT!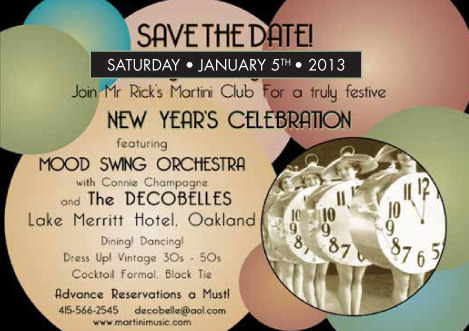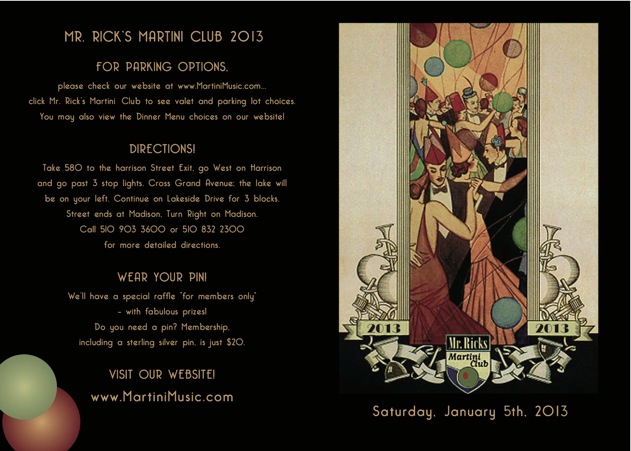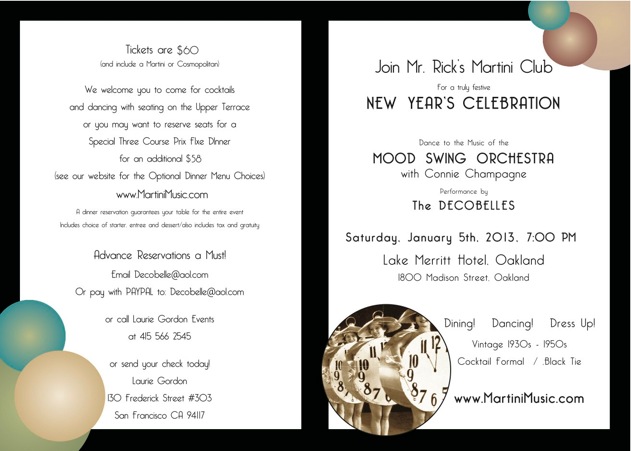 More Details and Answers to Frequently Asked Questions:
The New Year Gala doors open at 7:00,
and you will be able to place your dinner order when all the guests at your table have arrived orders taken between 7:00 and 9:00
If you have reserved a ticket for "cocktails and dancing" without dinner you may come at any time. It is not a dinner followed by  dancing...it is like a Supperclub of the 1930s-1940s with continuous music, entertainment, dancing and dining. Some people choose to  eat right away, others like to cocktail and socialize before sitting down at their table and those who are not ordering dinner can come at any time. The Mood Swing Orchestra begins after 7:30.
Please know that everyone sitting at a reserved table must pay for and have the full dinner. We hope you can understand that no one can be seated without having dinner, and no, sorry but you cannot "just have a salad" or "just split a dinner" with a friend or date. Our arrangement  with the hotel guarantees that every seat represents a fully paid dining guest. And the dinner will be wonderful ! 
If you must cancel, tickets and dinners are refundable until January 2. After that date, tickets are refundable but dinners are refundable only if we have someone on the wait list ready to take your place. But that means actually "taking your place" and sitting at the same table...so if you are  part of a group of , say, six people and you cannot attend, your "replacement" would actually be seated with your friends at their table... so best to check with your table mates first! 
Cancellations made less than 48 hours before the event can not be refunded.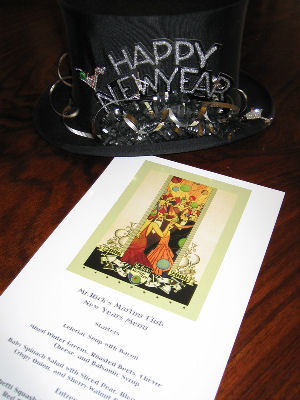 Decobelle@aol.com or 415 566 2545